"Today we use Stacey more then ever and we are still benefiting from her insights and knowledge. I am not sure how deep her well of knowledge goes, but I suspect that we are not even close to the bottom."
Dan Cosgrove, CEO, Mercantile Systems, Inc.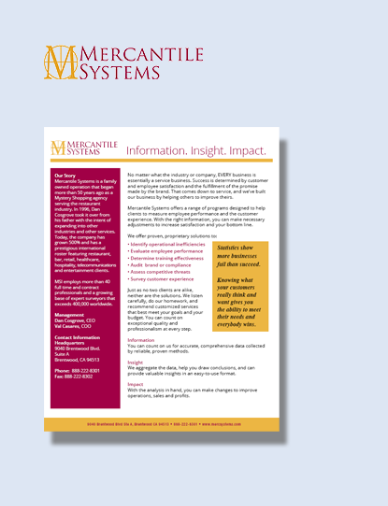 Mercantile Systems, Inc. had decades of solid performance as a mystery shopping company for restaurants and retail companies. However, revenues remained steady year-over-year and growth was flat. Dan Cosgrove, CEO, and Valerie Casares, COO, wanted to explore options to improve the growth of the company.
Stacey Paynter conducted a business audit that not only uncovered a new positioning for the organization, but also identified areas where growth could be realized. The organization's services were redefined, prospective industries were broadened to include those with a dependence on customer service, and pricing — contracts as well as the internal organization — were revamped. In addition, marketing infrastructure was developed through the launch of a website, online plan and public relations plan.
The results have been significant. Within three years, the client roster had expanded to include national and international business-to-business, retail, financial services, entertainment, automotive and real estate organizations. Mercantile Systems has seen a 300% increase in revenues and a significant increase in bottom line performance. Stacey continues to be an advisor to Mercantile Systems' leadership for business and marketing initiatives.